By
Julie
A few Thursdays ago, I had the pleasure of attending a press screening for One Day, based on David Nicholls' novel (NOT by a woman, but we award a few honorary tiaras around here, ya know). I'm launching a new blog soon where I'll be reviewing what women WATCH, and will likely start off with this delightful film, which opens in theaters Friday.
That's all I'll say about the movie right now. In the meantime, we were lucky enough to score a prize pack to give away to one of our readers. All you have to do is leave a comment here on the blog telling us what your favorite beach read of the summer has been and we'll enter you in a completely random drawing.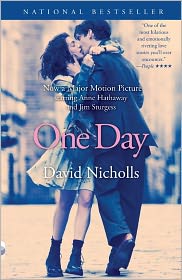 We'll announce the winner through a post here again late Thursday. Deadline is noon Central Standard time 8/18/11! Please be sure to leave an email address or sign on in such a way that we can notify you by email or watch for the announcement so you can send us your mailing information ASAP after the announcement. (U.S. mailing addresses able to accept FedEx deliveries only, please!) We'd love if you'd let all your friends know, too! You don't have to be a regular visitor at What Women Write, but we sure hope you'll come back and check out what's on the table again. (Teaser: one very special guest coming up soon! Aspiring writers won't want to miss it!)
The prize pack includes: a beach bag, towel, nail polish, novel, journal, cosmetic bag, and a bookmark. Can you say FUN!? And if you haven't read ONE DAY yet, check it out. I haven't read it, but loved the movie and hope to read it soon!